Cross-boundary Public Transport Services
Passengers can take shuttle bus, cross-boundary coach or cross-boundary hire car plying between Hong Kong and Macao, or Hong Kong and Zhuhai via the Hong Kong-Zhuhai-Macao Bridge.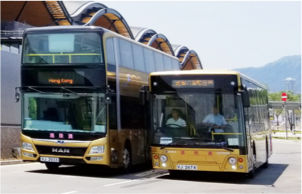 (1) Shuttle Bus
Two shuttle bus routes – Hong Kong/Zhuhai route and Hong Kong/Macao route.


24-hour service, peak period headway at 5 minutes;non-peak period headway at 10-15 minutes;overnight period headway at 15-30 minutes.


Shuttle bus ticket counters and ticket vending machines are available at the restricted area of the departure hall to facilitate passengers to purchase shuttle bus tickets. Passengers may also purchase the tickets online in advance.
Hong Kong/Zhuhai route
Hong Kong/Macao route
Regular fare
Concessionary fare
Regular fare
Concessionary fare
Day
Night
Day
Night
Day
Night
Day
Night
65
70
33
35
65
70
33
35
Note:
1.
The fares are displayed in Hong Kong dollars, unit: dollar;
2.
Day-time period is from 06:00 to 23:59; night-time period is from 24:00 to 05:59 of the following day;
3.
Concessionary fare is applicable to children aged under 12 or less than 1.2m in height, people with disabilities and senior citizens aged 65 or above.  Concessionary fare is 50% of regular fare.
(2) Cross-boundary Coach and Cross-boundary Hire Car
Cross-boundary coaches provide services between urban areas of Hong Kong and Zhuhai or Macao with fixed stopping points, fixed routes and fixed schedules.


The main stopping points in urban areas of Hong Kong include Causeway Bay, Tsim Sha Tsui, Kowloon Station (Element), Mong Kok, Prince Edward, Kwun Tong, Tseung Kwan O, etc., The main destinations in Mainland via the HZMB include Zhongshan, Zhuhai, Jiangmen, Xinhui, Kaiping, Toishan, Yangjiang, etc., and the main destinations in Macao are some of the hotels located in Taipa District.


For the details on routing, frequency and fare of the cross-boundary coach services, please call the Cross-boundary Coach Associations for the information of the operators :

| | |
| --- | --- |
| Hong Kong Guangdong Boundary Crossing Bus Association Limited: | Tel 2721 4466 |
| China Hong Kong and Macau Boundary Crossing Bus Association: | Tel 2782 0738 |

Cross-boundary hire cars provide pre-booked and personalised point-to-point services. Passengers can call the Cross-boundary Coach Associations listed above for the information of the operators.
Layout Plan of Pick Up Area for Shuttle Bus and Cross-boundary Coach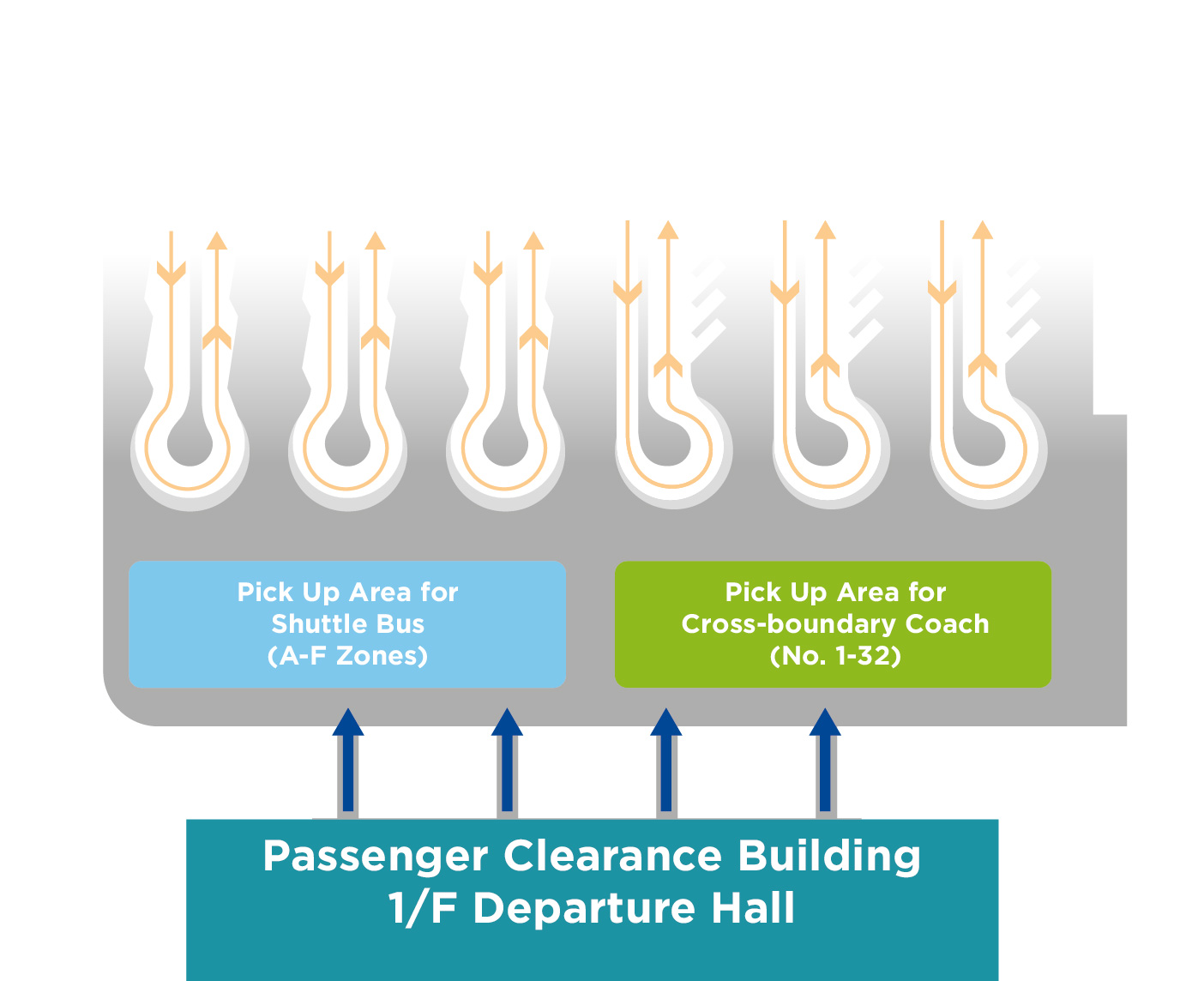 Enquiry Hotline:
Hong Kong-Zhuhai-Macao Bridge Shuttle Bus (Hong Kong) Company Limited
3753 3888
Hong Kong Guangdong Boundary Crossing Bus Association Limited
[Cross-boundary Coach and Cross-boundary Hiring Car]
2721 5522
China Hong Kong and Macau Boundary Crossing Bus Association
[Cross-boundary Coach and Cross-boundary Hiring Car]
2782 0738
New Lantao Bus Company (1973) Limited
[Franchised Bus Routes B4、B6、A35、N35]
2984 9848
Long Win Bus Company Limited
[Franchised Bus Routes A31、A33X、A36、A41、NA31、NA33、NA34、NA40、NA41]
2261 2791
Citybus Limited
[Franchised Bus Routes B5、A11、A21、A22、A29、NA11、NA20、NA21、NA29]
2873 0818
Coronet Ray Development Limited
[GMB 901]
3193 9393